Kotecha D, Bunting KV, Gill SK, et al. Effect of Digoxin vs Bisoprolol for Heart Rate Control in Atrial Fibrillation on Patient-Reported Quality of Life: The RATE-AF Randomized Clinical Trial. JAMA.
2020 Dec 22;324(24):2497-2508. doi: 10.1001/jama.2020.23138. (Original study)
Importance There is little evidence to support selection of heart rate control therapy in patients with permanent atrial fibrillation, in particular those with coexisting heart failure.
Objective To compare low-dose digoxin with bisoprolol (a β-blocker).
Design, Setting, and Participants Randomized, open-label, blinded end-point clinical trial including 160 patients aged 60 years or older with permanent atrial fibrillation (defined as no plan to restore sinus rhythm) and dyspnea classified as New York Heart Association class II or higher. Patients were recruited from 3 hospitals and primary care practices in England from 2016 through 2018; last follow-up occurred in October 2019.
Interventions Digoxin (n = 80; dose range, 62.5-250 μg/d; mean dose, 161 μg/d) or bisoprolol (n = 80; dose range, 1.25-15 mg/d; mean dose, 3.2 mg/d).
Main Outcomes and Measures The primary end point was patient-reported quality of life using the 36-Item Short Form Health Survey physical component summary score (SF-36 PCS) at 6 months (higher scores are better; range, 0-100), with a minimal clinically important difference of 0.5 SD. There were 17 secondary end points (including resting heart rate, modified European Heart Rhythm Association [EHRA] symptom classification, and N-terminal pro-brain natriuretic peptide [NT-proBNP] level) at 6 months, 20 end points at 12 months, and adverse event (AE) reporting.
Results  Among 160 patients (mean age, 76 [SD, 8] years; 74 [46%] women; mean baseline heart rate, 100/min [SD, 18/min]), 145 (91%) completed the trial and 150 (94%) were included in the analysis for the primary outcome. There was no significant difference in the primary outcome of normalized SF-36 PCS at 6 months (mean, 31.9 [SD, 11.7] for digoxin vs 29.7 [11.4] for bisoprolol; adjusted mean difference, 1.4 [95% CI, −1.1 to 3.8]; P = .28). Of the 17 secondary outcomes at 6 months, there were no significant between-group differences for 16 outcomes, including resting heart rate (a mean of 76.9/min [SD, 12.1/min] with digoxin vs a mean of 74.8/min [SD, 11.6/min] with bisoprolol; difference, 1.5/min [95% CI, −2.0 to 5.1/min]; P = .40). The modified EHRA class was significantly different between groups at 6 months; 53% of patients in the digoxin group reported a 2-class improvement vs 9% of patients in the bisoprolol group (adjusted odds ratio, 10.3 [95% CI, 4.0 to 26.6]; P < .001). At 12 months, 8 of 20 outcomes were significantly different (all favoring digoxin), with a median NT-proBNP level of 960 pg/mL (interquartile range, 626 to 1531 pg/mL) in the digoxin group vs 1250 pg/mL (interquartile range, 847 to 1890 pg/mL) in the bisoprolol group (ratio of geometric means, 0.77 [95% CI, 0.64 to 0.92]; P = .005). Adverse events were less common with digoxin; 20 patients (25%) in the digoxin group had at least 1 AE vs 51 patients (64%) in the bisoprolol group (P < .001). There were 29 treatment-related AEs and 16 serious AEs in the digoxin group vs 142 and 37, respectively, in the bisoprolol group.
Conclusions and Relevance Among patients with permanent atrial fibrillation and symptoms of heart failure treated with low-dose digoxin or bisoprolol, there was no statistically significant difference in quality of life at 6 months. These findings support potentially basing decisions about treatment on other end points.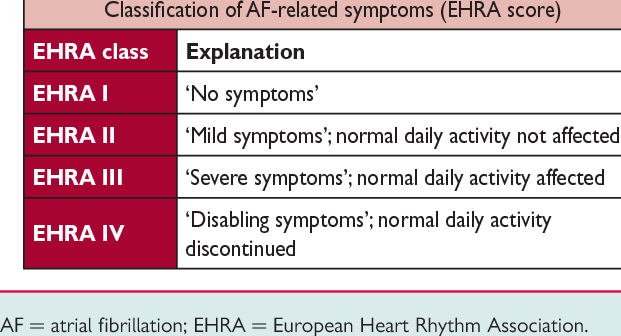 Fazit: Untersucht wurde der Vergleich zwischen Digoxin und Bisoprolol zur Frequenzregulierung bei permanentem Vorhofflimmern und Herzinsuffizienz. Statistisch zeigten sich die Gruppen vergleichbar. Dennoch zeigte sich ein geringer Vorteil hinsichtlich der EHRA-Klassifikation und der unerwünschten,behandlungsbedürftigen Nebenwirkungen.
Fazit:
Oft wird beides zusammen gegeben oder weil eines nicht vertragen wird. Beides wird zur Frequenzkontrolle gegeben und kann sich synergistisch unterstützen oder eben ersetzen.
Digoxin hat unberechtigter Weise einen schlechten Ruf. Offensichtlich ist es aber wirksam. Wegen großer Toxidität immer noch Reservemedikament. Wenn, dann niedrig dosieren.
Fazit Regen:
Wie oben.